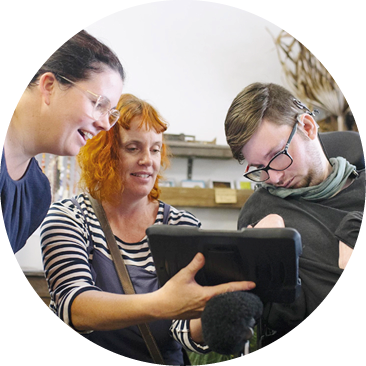 About us
We are committed to ensuring people with complex support needs have a skilled team of NDIS professionals around them.
We are thought leaders driving systemic change through collaboration and the sharing of our knowledge.
We exist to honour and uphold the needs and preferences of people with complex support needs.
We challenge you to consider all your work through the lens of human rights and by applying the social model of disability.
Benefits of our training
01
A variety of learning modes
Enjoy flexibility and a variety of courses and learning modes.

02
Practical tips for better understanding
Our training is designed to provide the skills you need in a practical sense.
03
Tailored content available

We deliver tailored training packages for teams based on your learning needs.

04
Informed by people with lived experience

Our training is co-designed or reviewed alongside people with lived experience of disability.

Laura Schutz
Laura has been living and breathing all things NDIS from the moment the Scheme was launched. She has 10 years' experience navigating the NDIS through various service delivery roles including Support Coordination, industry coaching and consulting. She is passionate about building capacity and is also a Home and Living Specialist at
Housing Hub
.
Vivien Williams
Vivien has a background in community aged care, but now her speciality is housing and SDA. She is determined to provide professionals working in the NDIS space with all the resources they need to ensure people with complex support needs are supported to live well in the community.
Whitney Lipman

Whitney has worked in the public health setting for over 10 years as a Senior Occupational Therapist working to facilitate effective discharges. Whitney has also worked as an NDIS Project Officer for Monash Health. She has a Masters in Clinical Rehabilitation.

of trainees would recommend