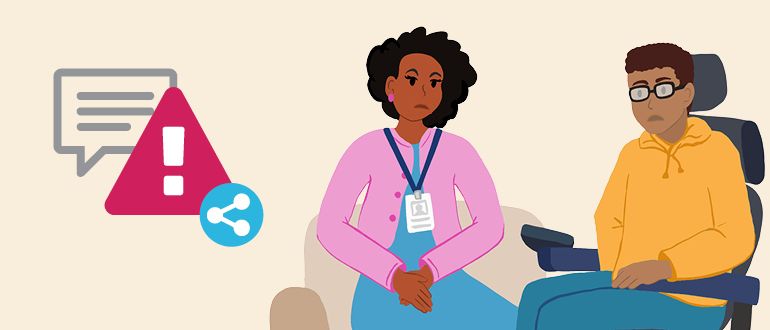 Live workshop

Planning, preventing and navigating crisis

Learn how to assist NDIS participants to prepare for, and navigate, crisis events including providing assistance to access mainstream and crisis services.

Format
Live Zoom Workshop

Date
Wed 22 & Thur 23 February
Time (AEDT)
Day 1: 12pm-4pm

Day 2: 1pm-4pm
Lead Presenter
UpSkill and Marathon Health

Who is this for:
Support coordinators

NDIS allied health professionals

Professionals assisting people with complex support needs
This workshop includes:
Practical exercises

Group discussion

Question and answer session

A comprehensive list of helpful resources
People with complex support needs can find themselves in a crisis situation, or at risk of, for a variety of reasons.*

Crises rarely arrive without warning. This workshop focuses on planning to prevent, respond and revolve points of crisis.
*Including natural disasters, illness or accident, change in support needs, inadequate support, abuse or neglect, behaviours of concern, alcohol or drug misuse, contact with the justice system, eviction, homelessness and more.
After this workshop you will be able to:

Undertake person-centred risk analysis and reasonably identify the likelihood of known crisis triggering events or heightened needs from participants and recognise early signs of risk of crisis


Engage and collaborate with relevant professionals, including mainstream service systems, to develop strategies to reduce risk of crisis and contingency plans if crisis eventuates


Assist participants to navigate crisis events including providing assistance to access appropriate crisis and mainstream service systems


Navigate complex systems and understand likely responsibilities at the interface to assist a person to regain stability in their life


Support NDIS funding requests for to avoid and navigate crisis situations

Why should I attend this workshop?

Mainstream services have a responsibility to people with disability, as they do to all citizens.

Support coordinators and other professionals can play a key role collaborating across service systems in crisis prevention, contingency planning, responding and resolving crises, and to assist a person with complex needs to live well in the community.

Register now to secure your spot
Be notified of upcoming dates for this workshop

Who do you deliver training to?
All of our training has been developed with support coordinators and allied health professionals in mind. However, all of our training is suitable for anyone who has a role in supporting people with complex support needs.

Do you deliver private team training?

Yep! We can deliver tailored training packages to suit the needs of your team. We work collaboratively with you to understand your team's learning objectives and then develop our training content and delivery to best achieve these outcomes. Contact us at upskill@summerfoundation.org.au for more information.

Do you offer discounts for groups?

Sure do! If you are purchasing a course for a team of 5 or more people, please get in touch with us on upskill@summerfoundation.org.au to recieve a 20% discount. If you are looking to book for more than 8 people, we recommend getting in touch with us for a private session.

Yep! Please email us on upskill@summerfoundation.org.au to arrange this.