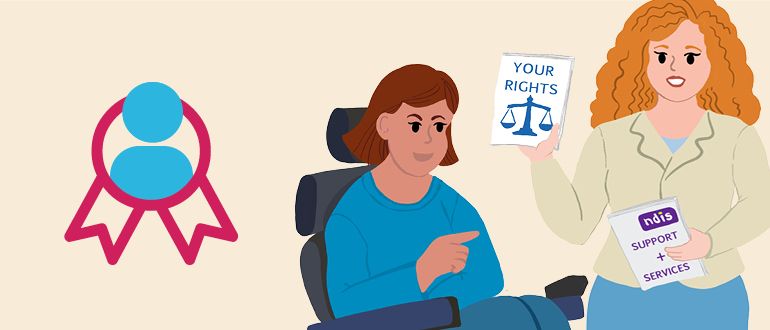 Live workshop

Best practice when working with people with complex support needs
Learn strategies t
o demonstrate leadership in promoting and upholding the rights of those y
ou support who live with complex support needs.
Format
Live Zoom Workshop

Lead Presenter
Vivien Williams, UpSkill Trainer

Subsidised Price

$150

(includes GST)
Who is this for:
Support coordinators

NDIS allied health professionals

Professionals assisting people with complex support needs
This workshop includes:
Practical exercises

Group discussion

Question and answer session

A comprehensive list of helpful resources
An overview of the guiding approaches to service provision including taking a human rights and person-centred approach to practice, working in a trauma informed way, practicing cultural sensitivity and promoting self determination.

After this workshop you will be able to:

Recognise when a person's rights are at risk and identify ways that you can assist to reassert their rights


Identify key guiding approaches that are essential when working with people with complex support needs and consider ways to incorporate these approaches into how you work


Demonstrate strategies to improve your overall practice and identify ways to work collaboratively with mainstream and NDIS services


Lead, innovate and develop service improvements in line with contemporary best practice

Why should I attend this workshop?

Both NDIS allied health professionals and support coordinators work with people that have complex support needs who are accessing multiple service systems. Learn how to support the people by better understanding the principles that guide best practice.
Be notified of upcoming dates for this workshop

Who do you deliver training to?
All of our training has been developed with support coordinators and allied health professionals in mind. However, all of our training is suitable for anyone who has a role in supporting people with complex support needs.

Do you deliver private team training?

Yep! We can deliver tailored training packages to suit the needs of your team. We work collaboratively with you to understand your team's learning objectives and then develop our training content and delivery to best achieve these outcomes. Contact us at upskill@summerfoundation.org.au for more information.

Do you offer discounts for groups?

Sure do! If you are purchasing a course for a team of 5 or more people, please get in touch with us on upskill@summerfoundation.org.au to recieve a 20% discount. If you are looking to book for more than 8 people, we recommend getting in touch with us for a private session.

Yep! Please email us on upskill@summerfoundation.org.au to arrange this.